We've been wanting to do a Quilt Along for awhile, and we love Jen Kingwell designs, so this was a perfect match.  This will be the first quilt along we've done, so please be patient with us.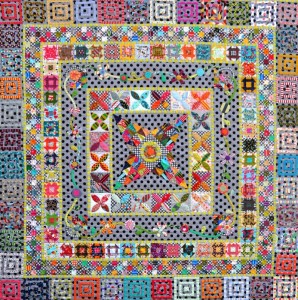 This will be a fairly relaxed QAL (quilt along).  I will be posting about every two weeks about my experience and suggestions in constructing the center block, borders and finishing work.  Like every other project I tackle, there will be a lot of improvisation and throwing the printed instructions out the window.  You'll find that I love to make beautiful quilts and I'm willing to try just about anything to make it work.  When I run into a technique I'm not sure about, I give it a try.  If it doesn't work for me, I find an easier way to accomplish the task.  I'll be sharing those tips with you.
How it works.  We'll publish a series of posts detailing each step in the process.  You can quilt along with us, ask questions, and share your techniques and advice with others.  You can follow along at our speed or go at your own pace as posts will remain on this blog even after the quilt along has been completed.
Schedule of Posts
October 17th — Ann's Overview and General Observations on the pattern, including Fabric and Color Selection.
October 31 — Constructing the center section including templates, piecing triangles,  applique of circles, and more.
November 14 –Border one.
Ann is still working on the pattern, so there will be additional posts for the other borders, etc.
Purchasing the Pattern
We have plenty of patterns available in our store.  You can shop online by clicking here
I've started a Flickr group so that we can all share our progress, and if you use Instagram, you can use the tag #midnightheartsong.
So, are you anxious to join us in making this amazing quilt? We would love to have you join us!