Category Archives:
Delilah
Not in order and not instructional, just showing a bunch of fabrics and trying to figure out which to use.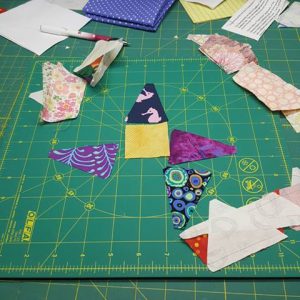 Month 2 – Bells Beach, Make Two
Did you use a 28mm or 18mm rotary cutter for your first month blocks? If not, how did it work for you with the 45mm cutter?  Seemed harder to cut for me so I used the smaller 28mm cutter.
Once again, we have a lot of small curved pieces in each block.  I've added ½" to each of the straight sides of each piece.  Trim the smaller blocks to 5 ½" x 5 ½" before you piece them to finish the block.
The directions for the borders are in the pattern.  They're pretty straightforward.
Remember, you're going to be getting new fabrics each month, so feel free to use fabrics from the previous month.
My finished Bells Beach Blocks:
I'm getting excited about this quilt!  I hope you are, too.  Jen's patterns are a challenge, but I love how they turn out.
Hi everyone! I'm so happy to be making Jen Kingwell's latest pattern, Delilah, with all of you.
If you've ever made one of Jen's quilts before, you'll remember that she has always provided patterns to trace, but you had to add a ¼" seam to each one. Easy enough for straight lines, but many of the blocks are curved. Jen is a hand piecer and hand quilter, so she needed the actual size of the units she was piecing, and the seam allowance wasn't so critical. The templates in this project include the ¼" seam allowance and make for a quilt ideally suited to machine piecing.
So, my plan for this Sew-A-Long is to give helpful hints, and take lots of pictures as we go along. If you have questions, post them or email us and we'll respond as quickly as we can.
Pre-constuction tip: In addition to any quilting tool you are using, I would suggest adding a 28mm or 18mm rotary cutter. The 45mm will work, but it seems to be easier with the smaller blade.
Okay, let's get started with Month 1 – Rising Sun Block, make two.
1st Tip: This pattern has small pieces with curves. Before you cut out your pieces, I've learned a handy trick from Pam Goecke Dinndorf at Aardvark Quilts. When I made Pam's Bouja, her very helpful advice when cutting pieces with curves was to cut the straight edges of the pattern pieces 1" larger than the pattern/template calls for. This gives you some wiggle room since everyone's ¼" seam varies depending on the machine or other unseen reasons. Since these pieces are small, I think an extra ½" on the straight sides should be plenty. Be sure you trace the actual template on the fabric and mark the center of the curves to be able to make sure they match in the end. Trim the small blocks to 3 ¼" x 3 ¼" before piecing the rest of the block.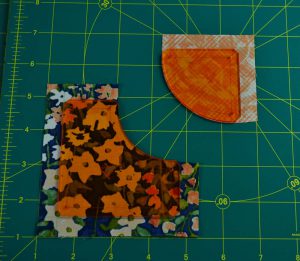 Notice how I've left an additional 1/2″ on the straight sides of the template.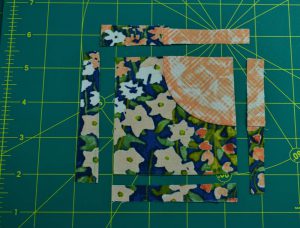 Once you piece the curves, cut off the extra 1/2″ allowance you left.
The other templates that are all straight edges (squares, rectangles, triangles) can be rotary cut as you would normally.
These are my finished Rising Sun Blocks:
Have fun!  See you next month.