Category Archives:
Aussie sampler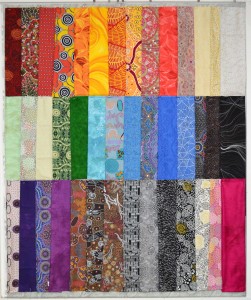 Watch this space for Ann's construction of her Australian Sampler.  We'll get it posted the week of May 16, 2016.  If you've purchased the kit, or if you just want to give it a go with your own choice of fabrics, you should check out these photos for help and inspiration.
By the way, this photo is of the color wall that Ann put together in order to choose her fabrics for the sampler.  Ann knows color, that's for sure.
Here's the pattern for the quilt–Patchwork Sampler–which you can get by clicking here.