Hi Everyone:  Wow!  You guys have been doing awesome work.  There's so much creativity and neat use of colors.  I hope you're having as much fun and are as challenged as I am.  This quilt takes a lot of work!  Anyway, here goes for the third session.
Border 1: Orange Peel
I decided to use lighter fabrics for each background.  I chose 4 darker/medium fabrics in the same color family (whenever possible) for the orange peels.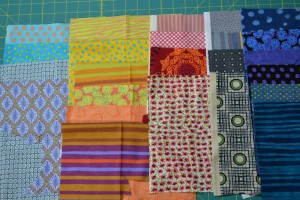 Cut (20) 4 ½" x 4 ½" squares
(80) F templates using various prints.  I found it easier to pin the four fabrics together and draw the template on the top one.  I could then cut all four at the same time.
(I am using the same technique for applique for the whole project, so I won't repeat those instructions again.)
Once you add this border, add the tiny border strips.
Cut: (2) strips 1″ x 24 ½"
(2) strips 1″ x 25 ½"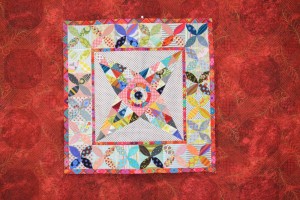 Next Session is on or about November 29 and will cover Border 2: Applique Vine
Homework: Finish Orange Peel borders