Border 3: Churn Dash
Well, using  these blocks to make borders that need to fit really requires some finagling the end product, doesn't it?
The best advice I can offer for the churn dash block is to make sure the value of your background is different than the value of the feature fabric.  Wherever possible, I kept the background fabric and feature fabric uniform for each block.  I also wanted the background to be lighter than the feature fabric.
I cut (2) 1 – 7/8″ squares of background, (2) 1 – 7/8″ squares of feature, (1) 1″ x 6″ strip of background, and (1) 1″ x 6″ strip of feature fabric, and (1) 1 ½"  square of background fabric.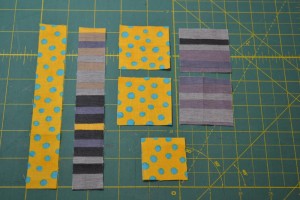 I made the corner pieces as indicated, but I sewed the 1″ strips together and sub cut into 1 ½" sections.
Continue to make (52) 3 ½" blocks.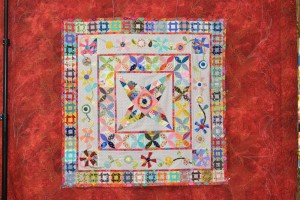 Next Session is on     January 9, 2015         Border 4: Checkerboard
Homework: finish churn dash border.