Border 4, Checkerboard
Well, the end is in sight (for me at least).  It's been fairly slow going, but you're all doing great.  I love seeing the photos you've posted to the Facebook Group page.
The pattern gives two options for the checkerboard border: You can cut (276) 1 ½" x 1 ½" squares of the secondary background and (276) 1 ½" x 1 ½" squares of a large variety of prints.
OR
You can cut 1 ½" strips of background and 1 ½" strips of prints and sew them in sets of three and sub cutting at 1 ½" increments.  If you alternate background/print/background and print/background/print, press seam to the background piece, these sections will nestle neatly together.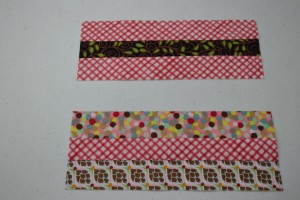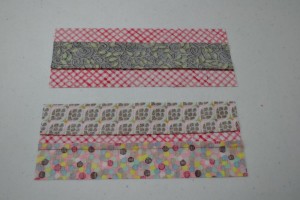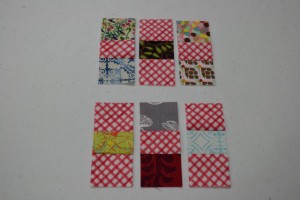 After piecing the checkerboard borders, I actually had to remove one section from each border to make them fit my quilt so far.  Again, that elusive 1/4″ seam.  Remember, the pattern writer usually designs and makes the quilt while she is writing the pattern.  The measurements she gives are for her borders, blocks etc.  I would bet money that if we compared our finished quilt sizes at the end, we will have multiple variations.  Remember, no quilt police here.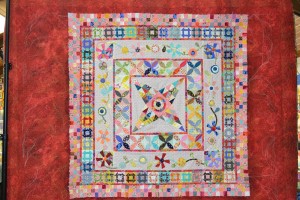 Next session is on February 2, 2015
Homework – finish Checkerboard border.