Session Seven
Border 5 – Courthouse Steps
For this border, I found it tedious to cut the various strips for the blocks.  It seems I did nothing but cut and sub-cut strips for several days.  Again, I like the contrast between the background fabric and the feature fabric to really stand out.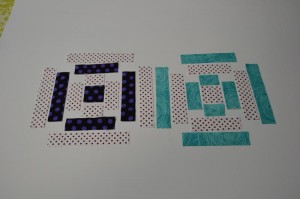 I changed the background of my design wall.  Brian thought the red background overshadowed the quilt.  This is the quilt so far, with some of the courthouse steps. I'm liking how it is turning out.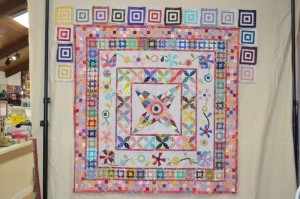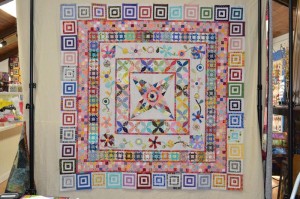 Here is the finished quilt, hanging up in my shop! I'm really pleased on how it turned out, and I hope you're all pleased with your own.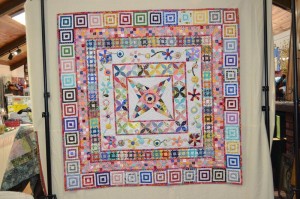 I've sure enjoyed this quilt along, and hope you have, too.  It's amazing how unique each of our quilts are, using the same pattern.
Next Quilt Along will use the Green Tea and Sweet Beans pattern by Jen Kingwell.  We'll give details in an upcoming newsletter.