Monthly Archives:
April 2017
Not in order and not instructional, just showing a bunch of fabrics and trying to figure out which to use.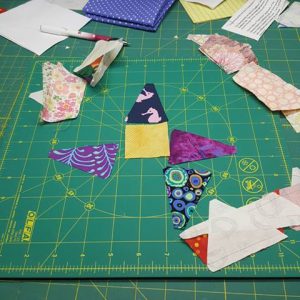 Month 2 – Bells Beach, Make Two
Did you use a 28mm or 18mm rotary cutter for your first month blocks? If not, how did it work for you with the 45mm cutter?  Seemed harder to cut for me so I used the smaller 28mm cutter.
Once again, we have a lot of small curved pieces in each block.  I've added ½" to each of the straight sides of each piece.  Trim the smaller blocks to 5 ½" x 5 ½" before you piece them to finish the block.
The directions for the borders are in the pattern.  They're pretty straightforward.
Remember, you're going to be getting new fabrics each month, so feel free to use fabrics from the previous month.
My finished Bells Beach Blocks:
I'm getting excited about this quilt!  I hope you are, too.  Jen's patterns are a challenge, but I love how they turn out.