Month 3 – Shooting Star.  Make two
This block has lots of points to match up, so I think it's a good idea to mark the points of each piece.  Sometimes, I skip this step if it looks like straight piecing, but this block screams for accuracy!
Also, pay attention to which way you press seams that will join as you piece the block.  After piecing the three pieces (T12, T11, and T12 rev.), press both seams toward the outside.  The next three (T14, T13, and T14 rev.) will eventually meet in the center, so press two toward center and two toward the outside.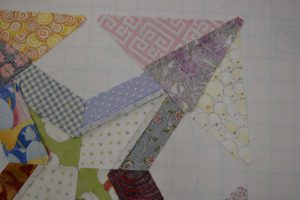 Attach T15 and T15 rev. to sides of T13/T14 piece.  Press these seams in the same direction that you pressed the T13/14 pieces in the previous step,
The seams will cross each other because they are all at different angles, but this keeps all your seams from being in one place.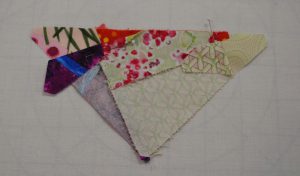 In the last two steps, you will join the four pieces to make the finished block, these seams will fit nicely together with the seams pressed the right way.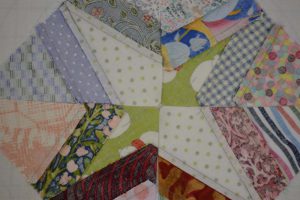 Here are my finished Shooting Star Blocks: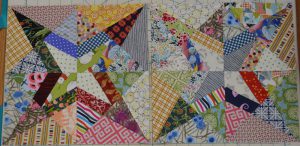 Next month is another challenging block, but then there's a bit of a break in month 5.  Keep at it:  this quilt is worth it!