Month 4:  Fairhaven.  Make 3
Okay, everyone, another block with small curved piecing. On this block, I did not cut the straight edges of the curved template (T16, T16 rev.)  ½" larger because there are no straight edges on the T17 template.  It seemed easier to line up the edges and go slowly.
If I didn't tell you before, I will tell you now that it is easier to piece curves with the concave curve on the bottom and the convex curve on top.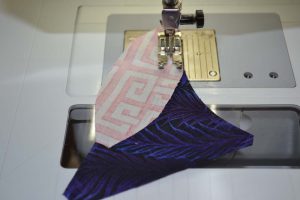 To make it easier to piece each section,                             Press the                                   press the T16/T17/T16 units toward                                   T16 rev./T17 rev./T16 rev.           outside of block.                                                                  units toward center of block:
Unfortunately, there will be  sections where eight corners meet and there is very little you can do to decrease the thickness.  Definitely press these seams open, and unless you are hand quilting, be sure your quilter (either yourself or a long arm quilter) is aware of these seams.  Strong needles have been known to break on these kinds of seams.
Here are my Fairhaven Blocks:
I don't know about you, But I thought these first four months were pretty tough.  Good news, next month's block is a snap!