Month 6–In Orbit, Make 4
Hi All!  At first look, this seems like an easy one, but it was a lot trickier than I thought.  I hope some of my mistakes and un-sews help you avoid the same mistakes.
I always start by selecting fabrics, and then arrange to my liking on my design board.  I suggest marking ALL corner points on each template.  * Template T22 is not a 60 degree triangle, so be sure to mark the starred point so you know which way to piece it in the block.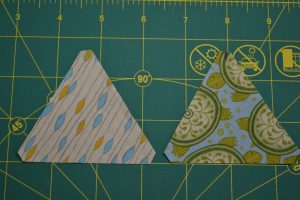 Read through the entire post to see the two alternate ways to construct these blocks.
The first block I made, I pieced it the way the pattern is written.  I made unit T24/T23/T22 (press toward T22) and unit T24 rev./T23 rev./T22 rev. (press toward T24 rev.)  These seams I stitched all the way to edge.  I found it too messy leaving ¼" at seams, so snipped threads at edges and pulled one or two stitches of seams where I had to do a "Y" seam.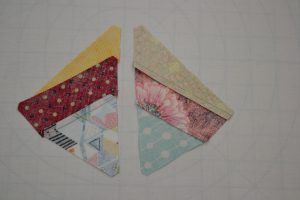 Then I made the T25/T26 unit and inserted the corner units to finish the block.
For the second (and remaining 3 blocks) I pieced the corner units, and then inserted just T25 for both the top and bottom of the block.  I pieced a T25/T26/T25 unit and joined it to the center of the block.  This seemed easier to me.  On this construction, I sewed up to each seam to be able to make that "Y" seam work.
Here are my finished blocks: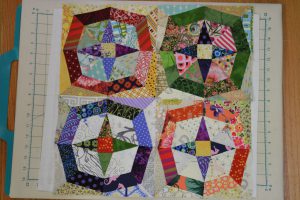 Have fun!  As usual, if you have any questions, call Ann at 605-745-5330.  See you next month!