Delilah, Month 8 — Coloured Turbine, Make 4
Hi Guys!  Hope this finds you well.
Coloured Turbine has been problematic for me.  It took me three tries to finally get the color placement I wanted.  I kept trying different dark/light/medium configurations.  As a result, I cut LOTS of T34 and T34 reversed.  Instead of cutting additional T34's I used the reversed pieces where the other pieces should be and vice versa.  So, some of my finished blocks will be a mirror image of the layout in the pattern.  In fact, looking at a picture of Jen's actual quilt, all of her Coloured Turbine blocks are reversed from the pattern layout.
Having said all that, there is one important point that I want to make before we go any further.  T35 is NOT a 60 degree triangle.  Do whatever you need to do to make this obvious as you piece the block.  I put a heavy mark on the longer part of the triangle.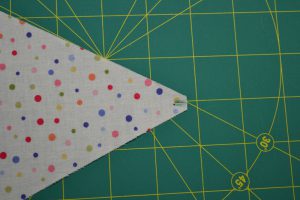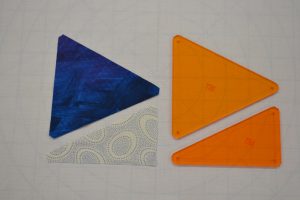 I would also suggest that you lay out the pieces, then sew section by section.  This will be a much slower process, but you'll be so much happier you did.  Un-sewing is not fun!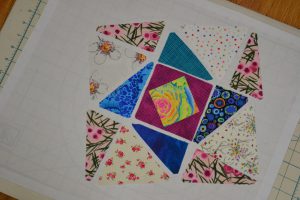 Here are my finished blocks.  The top two are "reversed" from the pattern layout.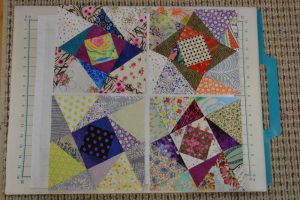 Have fun!  See you next month!