Baker's Dozen Block of the Month
Month 3 – (4) Aircastle Star Blocks, (4) Combination Star Blocks, and Eight Willow Blocks
Hello Everyone, welcome back!
This month we are making the rest of the 6" blocks that will be used in the two borders that surround the center medallion blocks.
Aircastle Block, pages 9 & 10:  Confession time…I got really confused in reading the pattern, and trying to decide which fabrics to use and my color placement.  I drew a little cheat sheet with the pieces numbered to correspond with my fabrics and the sizes to cut each.  This really helped me.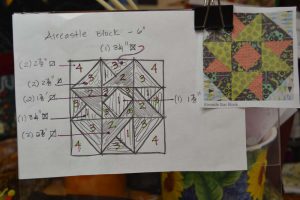 I also cut each piece for each block and arranged them in the appropriate place, before I began to sew.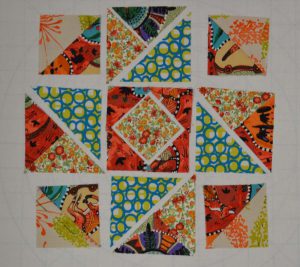 Here are my finished Aircastle Blocks: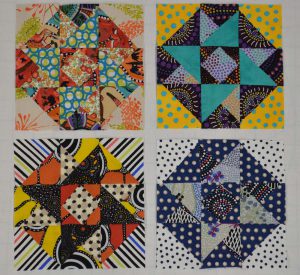 The next set of blocks will be the Combination Star Blocks, pages 11 & 12.  As in all the other blocks, lay out your cut pieces before you begin sewing.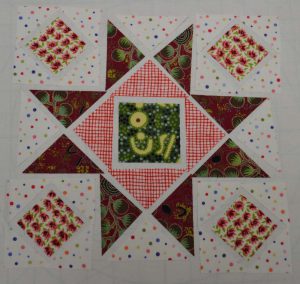 This blocks has triangle points that meet in the center of the block.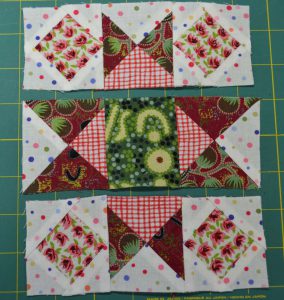 If you have trouble with triangle points, I'll show you how I keep my points "pointy".  Insert a straight pin at the point of the first triangle, and then through the point of the second triangle.  Do this on each point to be joined.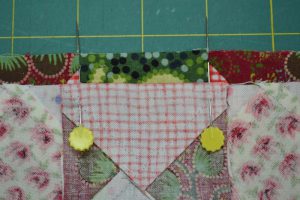 Pull the pin so it is straight and the two pieces are lined up together.  Put a pin on either side of the seam to hold that exact place tight.  When you sew this piece, do not remove the pins, but GO SLOWLY over the pins so the seam doesn't shift.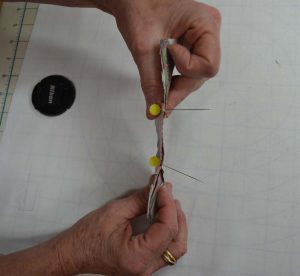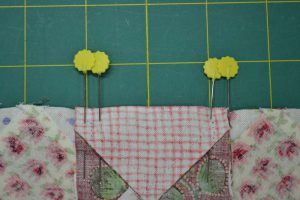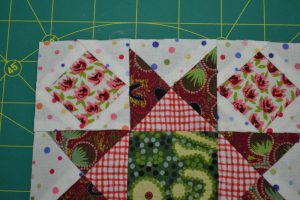 Finished Combination Star Blocks: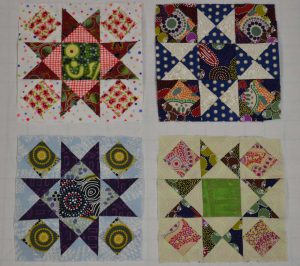 The last eight blocks we will make for this month will be Willow Block, page 13, which is a rectangle.  Finished blocks size will be 7 ¼" x 6", but again, your finished block size may vary.  All of my blocks are measuring ¼" smaller.  The point is they are ALL measuring ¼" smaller, so they will fit together beautifully in the finished quilt.
You will need to cut templates for this block.  Sadly, none of the triangles are 60 degrees or 45 degrees.  I did discover that by cutting a 3 ¾" x 4 ¾" rectangle and cutting it diagonally we can make two T8 triangles.  Make another 3 ¾"x 4 ¾" rectangle and cut it diagonally the opposite way to get two T8 reversed triangles.  Of course, if you want four fabrics for each corner, you'll have to cut them one at a time.
The Willow Block has two options so I'm going to make four of each.
The first version of this block has the two diamond points meeting at the center.  For this reason, I have pressed one set of seams toward the center, and the opposite set of seams toward the outside.  This will allow you to "snuggle" your seams together for a perfect fit.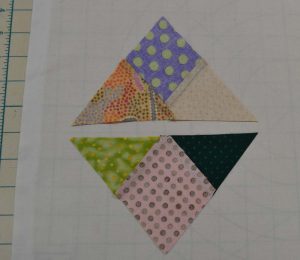 Use the same technique with a straight pin at the points on both diamonds.  You'll be able to feel the seams and just make sure they line up properly.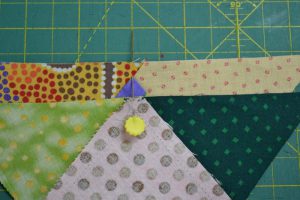 First four Willow Blocks: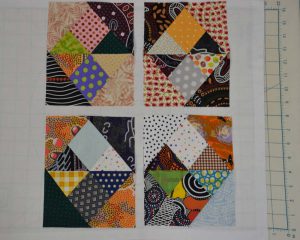 Luckily the alternate version of this block is much simpler, no points to align. Yippee!
Here they are: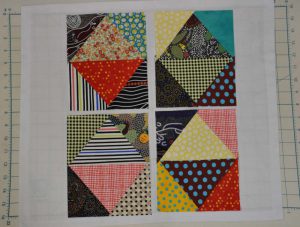 Thanks to all of you who are sharing your blocks on our Facebook page. Have fun and see you all next month!
Xox,
Ann