Delilah Month 11–Princess Cut; make 9 blocks.
Hi Everyone and Happy New Year!  Hope you all had a wonderful Holiday and a break from all that the world throws at you.
We are almost done with this amazing quilt, but what a fun journey it has been for me,
This month we make 9 Princess Cuts.
First things first — there is a correction to the pattern under CUTTING.
The first line reads: Cut 4 x T32.  Please change your pattern to read: Cut 8 x T42.  That's it, probably a little typo.
You could go ahead and use the T42 template, but it is a 45 degree angle, so if you cut  a 2–5/8" x 2-5/8" square, then cut diagonally 2 times, you will get four 45 degree triangles. Cut a second 2-5/8" square and you have eight triangles for the center of the block.
With all the points in this block, pressing is super important.  Just remember to press the seams of T45/T44/T43/T42 to the left.  Press T45 Rev/T44/T 43 Rev/T42 to the right and all should be well.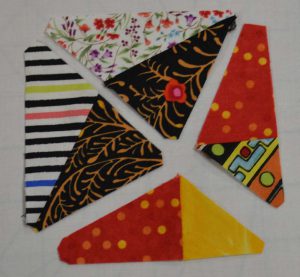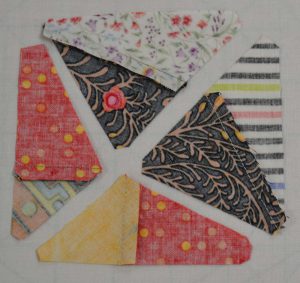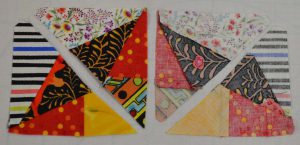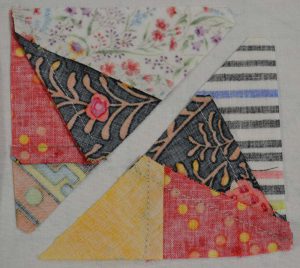 Press seams open when you join these sections.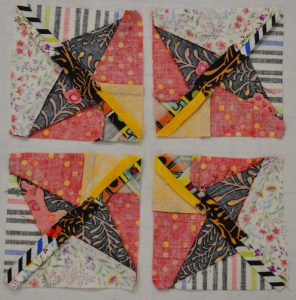 Finished Blocks: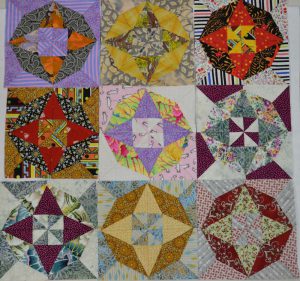 Thanks for with sticking with us!
See you next month!