Baker's Dozen Block of the Month
Month 4 – (4) Jewel Box Blocks and (8) Checkerboard Blocks
Hello, everyone!  We will now begin the blocks consisting of the second border.  You can sew the center blocks, inner border and the first border with the blocks from the first three months.  I like the fact that we can build the quilt as we go.
This month, we will be making (4) Jewel Box blocks found on pages 14 & 15; and (8) Checkerboard blocks found on pages 15 & 16.
Jewel Box Block:  The drawing in the pattern makes this look like a square, it is not.  The templates are diamonds or triangles.
Once again, I suggest you lay out the pieces, and sew each section.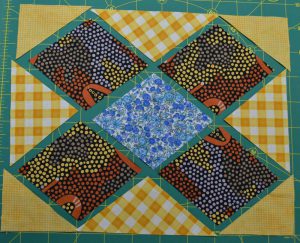 Watch those sneaky T6 corner pieces…I kept sewing them the wrong way around.
Here are my Jewel Box Blocks: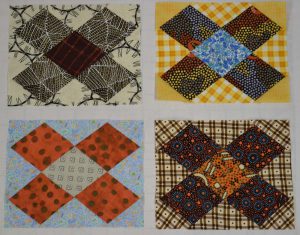 Checkerboard Block:  The pattern tells us to cut 42 –  1 ½" squares for each block!  That's 336 – 1 ½" squares!  Not for this girly I can tell you that.  I cut 1 ½" strips and sewed six of them side by side, then sub cut and sewed these together to make my blocks.  I made several strip sets, so it was plenty scrappy for me.
I made four from page 15, and four from page 16.
Finished Checkerboard Blocks: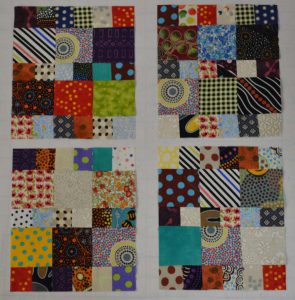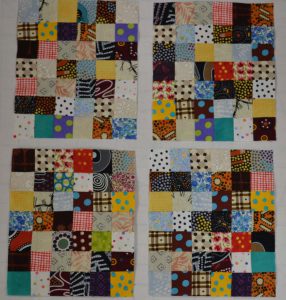 Thanks everyone for posting your progress. So fun to see the blocks.
Until next time, keep yourselves in stitches!
Ann