Hooray!
We are almost there!  What a fun and challenging journey this has been.  Thanks for going with me.
This is our final month, and we are making (9) Black Cockatoo Blocks.  The instructions for the pinwheel and filler blocks are also included as well as finishing instructions in this month's information.
Black Cockatoo Block:  *The pattern for this block is a mirror image of the colored photos in the quilt.  I'm a visual person (as most quilters are) and this threw me.
I made a copy of the block at the bottom of page two and wrote the template numbers on each piece.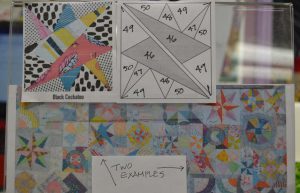 The other thing that bugged me was the T50/T47 diagram. With all my reference photos reversed, I had a really hard time until I rotated the unit to the position that it appears in the block.  I don't know if any of that makes sense, but hopefully the photo will help.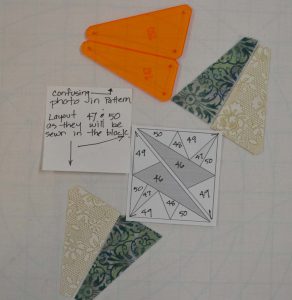 Once I laid out the pieces correctly, it was just a matter of sewing them together.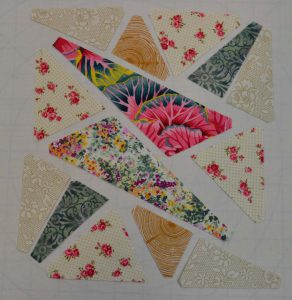 I have no good advice on pressing the seams, so I'll leave that up to you.
Finished blocks:
Filler Blocks – Pinwheels – make 31 blocks.
The pattern instructions are pretty straight forward, and after all the blocks we've made, pinwheels are easy.
I only have one tip I'd like to add and you can take it or leave it.  If you cut (2) contrasting fabrics at 3 ¼" x 3 ¼", sew a 1/4" seam all around the outside edges, then cut 2 times diagonally, you will have four half square triangles for your pinwheel.
Finally, Quilt Construction:
I love the way Jen puts the quilt together in sections.  This way, you can move blocks around depending on your own color preferences.
I used color pencils to outline each section, which helped identify them as I put the blocks together on my design wall.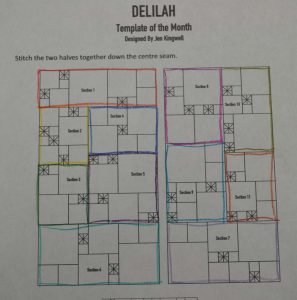 I have really enjoyed making Delilah with all of you.  Please, post a photo of your finished quilt when you are done.  We would all like to see your hard work come to fruition!
Also, be sure to sign up for Golden Days, Jen's newest Template of the Month.  We'll have a lot of fun making it.  Once again, we'll have a blog, videos, and a facebook page. Click here to see the details.
Here's my completed and quilted Delilah!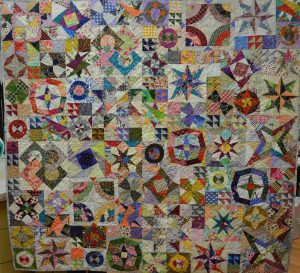 Thanks again, and may God Bless you all!
Love, Ann