Baker's Dozen Block of the Month
Month 5–(8) 12" Star Block with Cross and (4) 12" Eight Pointed Star Block
12" Star Block with Cross is found on page 16.  This block is pretty straightforward so I don't have any special knowledge or instructions.
For each block, you need four foundation pieced corner squares for a total of 32!  As I mentioned before, I did not make sure each corner piece was identical, I felt it would be too much to ask of myself to keep track of which strip went where.  If you want to make sure each corner is the same, you will need to make them four at a time.
For me, I decided to make all 32 at the same time.  Actually, we will need another 16 for the 12" Eight Pointed Star blocks, so we'll need 48 in total.
I don't know if it is easier, but I decided to draw my diagonal lines across the whole sheet, and then cut the squares 4" x 4"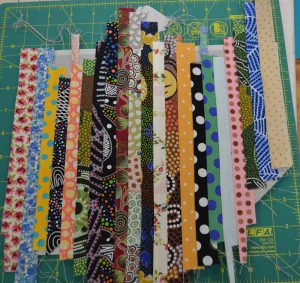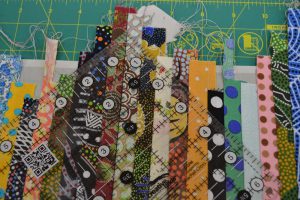 Any extra pieces I used to add to blocks that needed a corner filled in
Here's my pile of 4" x 4" striped pieces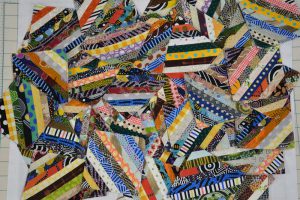 Eight Pointed Star Block 12" is found on page 27.  This is the same block we made in Month 1.  The only difference is this block is 12".  If you need a refresher on 'Y' seams, and set in seams, please refer to this information found in Month 1.  Also, remember that we posted  videos with some helpful tips on this on the HeartSong Facebook page and on the Bakers Dozen Quiltalong with HeartSong Facebook page.
As I mentioned before, you will need four foundation pieced 4" x 4" corner blocks for each block, for a total of 16.
Unfortunately, I neglected to take a picture of any of these blocks before I put them all together.  No reason, I just forgot.
Good luck, have fun, and I'll be back in a month!