Golden Days Template of the Month
Month 1–Austin Block, make one
Hello Everyone and welcome to Jen Kingwell's latest Template of the Month!  Thank you for joining me on this wonderful adventure to play with fabrics and colors.
As always, there are a few challenges for us, but she promises it is a bit simpler than previous quilts. Thank you for that, Jen!
There are several applique blocks along with pieced blocks (I have not received the entire pattern so I can't give you specifics on the blocks).
You will receive 12 yards of fabric over 12 months, but no duplicates.  Hang on to each month's fabrics so you have a generous supply with which to work.
Please join HeartSong's private Golden Days Facebook group which you can find by clicking here.
Jen Kingwell also is setting up a Golden Days Facebook group. Search Golden Days – Private Group for TOM Participants.  Both Facebook groups open you up to wonderful groups of people who are working together on this quilt from all over the world.
Month 1: Austin Block, make one
Confession time…my challenge for myself is to learn how to do needle turn applique if it kills me!  This will be my first attempt (so don't look too closely at my stitches).  I will be posting a video on the HeartSong Quilts Facebook page with some basic information and a couple of things that I found to be handy.  Click here for HeartSong's Facebook page.
The mylar templates in this months kit are really nice as they are heat resistant.  After cutting around your traced template with a 3/8" seam allowance, you can press the seams over the template if you want to get a head start of the needle turning business.
I decided to put my circles on my flowers before I stitched them to the background fabric.  I found it a little easier to manipulate the smaller piece.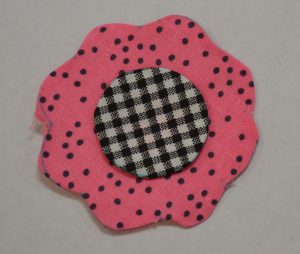 Here is my completed Austin Block.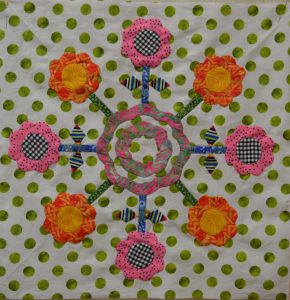 This was a lot of fun!  Until next time, happy stitching!
Blessings,
Ann