Baker's Dozen Block of the Month
Month 6– (8) Harlequin Blocks and (4) Corner Blocks
This is our last month together working on Bakers Dozen. I have really enjoyed the journey, and I loved working with all of you.
If you are interested, we are offering Jen's latest Template of the Month, Golden Days.  We still have openings in our May group, so I hope you decide to join us. Click here to sign up.
By this time, you are getting down to the bare bones of your fabric for this project.  The pattern called for 8 yards of a variety of fabrics, and 7/8 yd for the inner border and binding.  If you have run out of fabric, please let me know.  You can always add some of your own stash for the Corner Block Strips.
Having said that, this is where I used some of my smaller scraps for the triangles:
Harlequin Blocks found on pages 23 -25.  Make (8)
***Please Note:
Each block has (2) T13 and (2) T13 rev.  Make sure you have these in the right place before you sew, or your block will not fit.
The drawing in the pattern make T16 and T17 look identical – They are not!
Once again, I suggest you cut all your pieces out and place them on your work table.  Sew section by section to avoid confusion.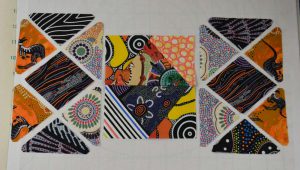 Finished Harlequin Blocks:
Corner Blocks found on page 26. Make (4)
I don't have much insight on this block as it is pretty straight-forward. The photo in the pattern shows each corner block with the same strips in the same order.  I did not have enough fabric to accomplish this.  I used what I had left, and I'm very happy with the result.
Finished Corner Blocks:
Quilt Assembly:
This quilt is at its essence a center medallion with pieced borders.  The biggest problem with assembling this type of quilt is that each border has to fit exactly.  You may have to ease (sometimes quite a bit) in order to make this happen.
When I started to add the 2nd pieced border (the one with the Checkerboard Blocks) I actually ended up removing a row from two of my Checkerboard blocks to make this row fit.  I would challenge anyone to look at my finished quilt and see that I did that.
My Completed Bakers Dozen: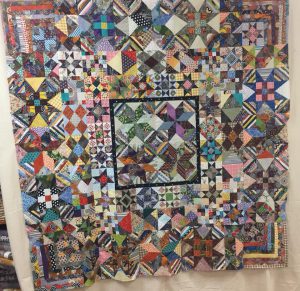 Once again, thanks again for making Bakers Dozen with me!
May God Bless You all.
Ann Powers