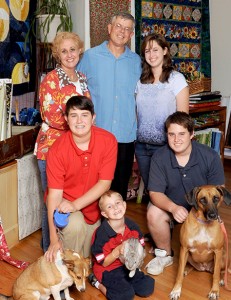 So, you want to know something about me?  I'm Brian Powers, and I'm half of the ownership team of HeartSong Quilts in beautiful Hot Springs, South Dakota.  I've been doing that for about five years now, and that gives me more than enough time to form some definite opinions about quilting, the quilt industry, quilters, fabric, etc., etc., etc.  Anyone who knows me also knows that my motto has always been "Often wrong, never in doubt!"
I was a trial lawyer in South Florida for 35 years when my wife Ann and I decided to raise up our kids in a better place, so we moved to the Black Hills of South Dakota in 2008 and opened HeartSong Quilts.  Ann, who is the real brains and creative genius behind the outfit, has been quilting for 18 years or so, was an interior designer by training and profession, and has a fabulous sense of style and the unique.  She has never met a pattern she likes, and she rarely reads them and she makes fun of me when I do.  I quilt—Ann made me learn for credibility, but it is not my favorite activity.  I do, however, love fabrics and running businesses.
Ann does the creative side of the business, and I do the business side of the business—technology, bookkeeping, web store, marketing, schmoozing. I do dabble in creativity–Ann lets me do displays and pick a few fabrics now and then.  I love marketing, merchandising, and promotion.  I used to have "people" to do all this stuff when I ran my law firm.  The law firm had 35 lawyers, and another 20-30 support staff.  I started it from scratch and did my own typing, answering the phone, etc.  I have counseled lots of businesses, and was a certified mediator for many years helping people solve their problems without having to go to trial. Most recently, the Powers started an ice cream parlor in Hot Springs—Gus' Best Ice Cream (www.gusbesticecream.com).  Ice cream and quilting—what a combination!
I'm writing this blog because I think I have observations about trends in quilting, fabric, technology, online resources, and other things that might be of value to you.  Let me know what you think.