Baker's Dozen Block of the Month
Month 2 – Another Star Block/Hand of Friendship
Hi Everyone!  Ready for more blocks?
This month, we are piecing twelve of the 'Another Star Block' found in the pattern booklet just after '8 Pointed Star'.  The pattern has an alternate layout that I also like, so I decided to make six of each.  We will also be making eight 'Hand of Friendship' blocks.  These will become part of the first 'border' around the center four blocks.  This way, you can build the quilt as we finish the blocks that go into each of the borders.
Another Star Block – make a total of 12.  I made six of the original pattern (page 5), and six of the alternate (page 7).
This block is not difficult, but the way it is pieced can be confusing.  Just take your time and make sure your pieces are where they should be before you stitch.  Check twice, sew once.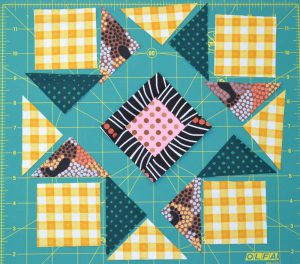 In constructing the block. I pressed all my pieces away from the center.  The only section that I pressed toward the center was the middle section as I finished piecing the block.  I pressed toward the center so my seams would sandwich nicely when I added the two outside pieces.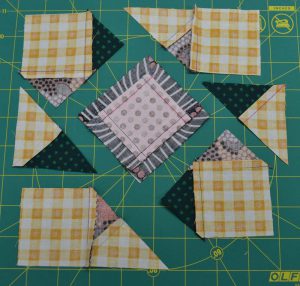 Here are the first six blocks: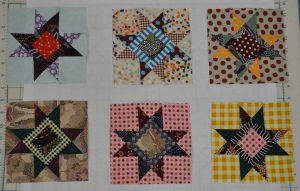 Another Star Block – alternate pattern
Once I started working on the alternate layout, I realized it would be a little more work as I had to line up the seam in the center piece with the point on the outside corner piece where the triangles meet.  I marked the seam allowance on the back of the center piece.  Then I inserted a pin at that mark from the back through the intersection of the triangles on the corner piece.  Now I am certain the seams will line up perfectly.
Here are the second set of six blocks: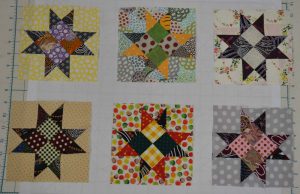 Hand of Friendship Star Block – make 8
Some of the blocks in Jen's original quilt used only three fabrics, sort of refreshing for a change.  I think I'll do a few scrappier blocks because I only have small pieces of background fabric left.
Again, to avoid confusion and un-sewing, I highly suggest cutting the pieces for each block one at a time, and lay them on your work surface in the order you want them in in the final block.  If you have a cell phone, you might want to take a picture of each block as you work on it.  You can always delete these pictures when you no longer need them for reference.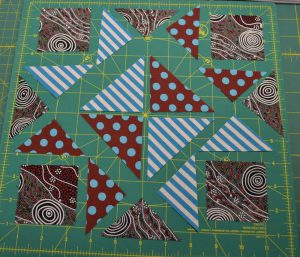 Just a quick look at the first two blocks I've finished.  I do like the scrappier block, so I'm going to try to use up my little pieces of background fabric.
Here are my final Hand of Friendship Blocks: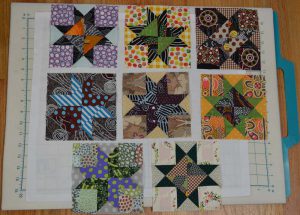 Thanks, everyone.  Have fun with these and I'll be back next month.